A leading supplier of High Quality Waste Compaction
Machines for use within the Marine and On-Land Industries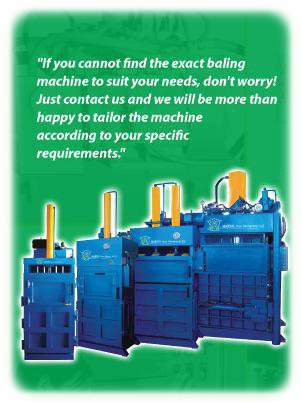 SINOMAR Waste Management Ltd is a versatile waste management equipment supplier, specializing in the design and manufacture of hydraulic waste compactors, offering a wide range of both vertical and horizontal balers for use within land and marine based industries.
Our vertical baler range offers a number of specifically designed marine balers for use on board ships and within other marine based industries. Our hydraulic compactors are recognized for their superior quality, high durability as well as ease of operation and maintenance.
Our Marine baler range can offer great reductions in waste disposal costs and also reduces waste storage areas on board due to the 12:1 compaction ration achievable. The ability to compact a wide range of materials such as plastic, paper, cardboard, textiles etc also promotes today's ever increasing recycling requirements.
All our waste compaction machines are tried and tested, manufactured to meet your requirements and supplied with the European CE Certificate along with a 12 month guarantee.
You will find that doing business with us is easy and straight forward, you will receive a product of excellent value that will fully satisfy your needs as a SINOMAR client, be it land or marine based.