A leading supplier of High Quality Waste Compaction
Machines for use within the Marine and On-Land Industries
PS-C-M Series granulators feature a compact design with a small footprint, they are popular machines within the marine industry as a solution to internal waste management on board ships and yachts. These small-sized shredders are specialised in granulating/crushing small size plastic (soft and hard plastic) and rubber material, including PET bottle, HDPE sanitary containers, nylon, moulding spures, moulding runner, purgings, PP sheet, plastic packaging, rubber rings, rubber sheets etc. No matter the scrap material before shredding is in the forms of ball, block, strips or sheets, this machine can easily handle it with high efficiency. A screen is mounted at the discharge point of the machine to control crushed granules below a certain size, making the final granules suitable to be processed in the next recycling step.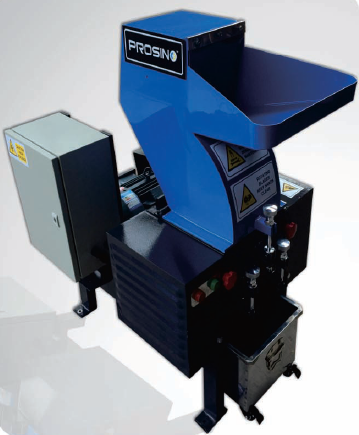 Many crews are now refusing to drink ship's generated water so many Operators are having to supply water/juices/coca-cola etc., in plastic bottles and/or cartons.As you can imagine a very large quantity of waste bottles are generated on a daily basis, with baling being quite tricky as even when compacted the bales tend to collapse due to the 'slippery' nature of the materials.
With the above in mind SINOMAR Waste Management Ltd is pleased to be able to offer the PS-C M series granulator. This waste shredder is designed to 'macerate' waste material, dramatically reducing its storage volume.
Macerates plastic waste into small particles
Environmentally friendly, hygienic and clean waste disposal techniques
Easy Installation and Operation
Reduce your waste storage volume on board
Can process Plastic, Rubber, Paper,and Wood
High resistant steel blades that can be sharpened, to extend liftime and reduce cost/li>